Introduction: As a kind of general equipment, hydraulic shears can not meet the needs of the sheet metal processing industry after decades of production experience. How to better combine the hydraulic shearing machine technology and information technology is a hydraulic shearing machine. Knock on the first step of smart manufacturing.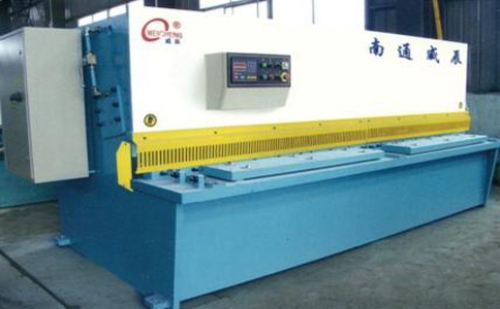 Hydraulic shears have been developed in China for decades. There are numerous small and medium-sized enterprises in China, but the rise of large enterprises is also springing up. Although ordinary folk workshops have been using ordinary hydraulic shears, but for the precision used in the defense, ordinary hydraulic shears obviously can not meet this demand.

Now that our domestic advanced hydraulic shears are upgraded to CNC shears, we will improve accuracy and position accurately, but it is difficult to meet the higher requirements for production. Many aerospace companies in China purchase hydraulic shears. Still relying on imports. Therefore, general-purpose equipment wants to increase market share, and the high-end market in the world must combine hydraulic technology with information technology. If we can reduce labor, how can we form an automated production process is the subject we want to study. Hydraulic shears want to open the door to intelligent manufacturing first develop their own information system. How to control the feeding system, robot, and precision on one machine at the same time.

At present, China's hydraulic shears companies are generally faced with a shortage of funds, because general equipment has almost reached an unprofitable point. This is one of the main reasons for insufficient R&D efforts. However, the more such a situation, the more they must seek out. New ways of development. In the face of smart manufacturing, the hydraulic shears companies should also eliminate all difficulties and develop their own core technologies so that hydraulic shears for China will only rely on smart manufacturing in the international equipment market.
The trends of the metal recycling industry
Unlike many other materials, most metal more than pays for its own recycling in the consumer and industrial waste. because the demand for metal scrap continues to rise and recycling metal saves more than 90 per cent of the energy required versus producing new metal.
The economics of metal scrap contributes to its position as one of the most recycled metals in the World.

What is the role of metal baler in metal scrap recycling?
The metal scrap can be directly pressed into bales by using the hydraulic metal baler from China factory YMSRECYCLING to make the high efficient metal recycling and increase the value of residual steel scrap.
Recycling metals also requires less energy than producing new metals. Also conserves natural resources. Recycling conserves diminishing natural resources.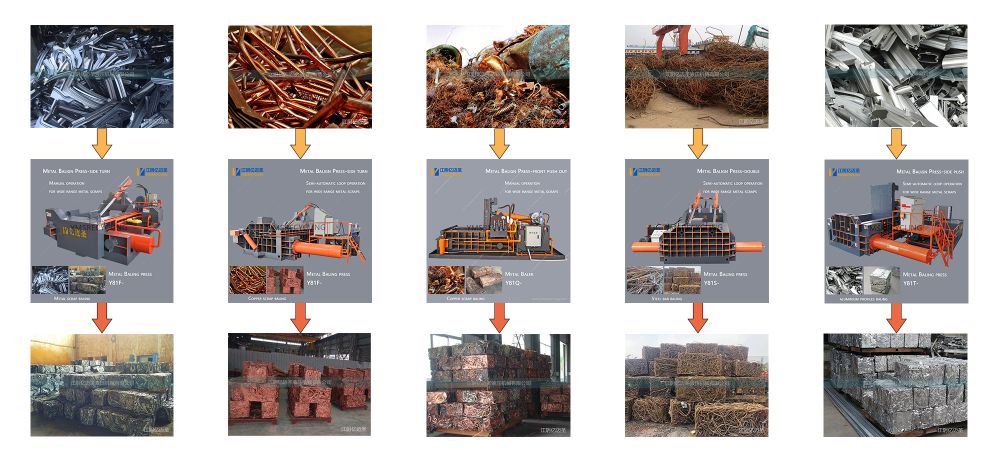 How to choose a suitable metal baler?
The Y81 series Scrap Metal baler could press all ferrous metals from steel to stainless steel can be recycled as well as non-ferrous metals such as copper, brass, and aluminium, with various sizes for option, high-density compression, compact and strong. Low energy consumption but fast production rate.
Y81 series hydraulic metal baler mainly include the following models.
Y81F (side turn discharge ), Y81T (side push discharge), Y81Q (front push discharge) and Y81S (Double main press ).
We also support the design and manufacture of other model versions upon request.

Y81Q-Manual operation (Front push discharge )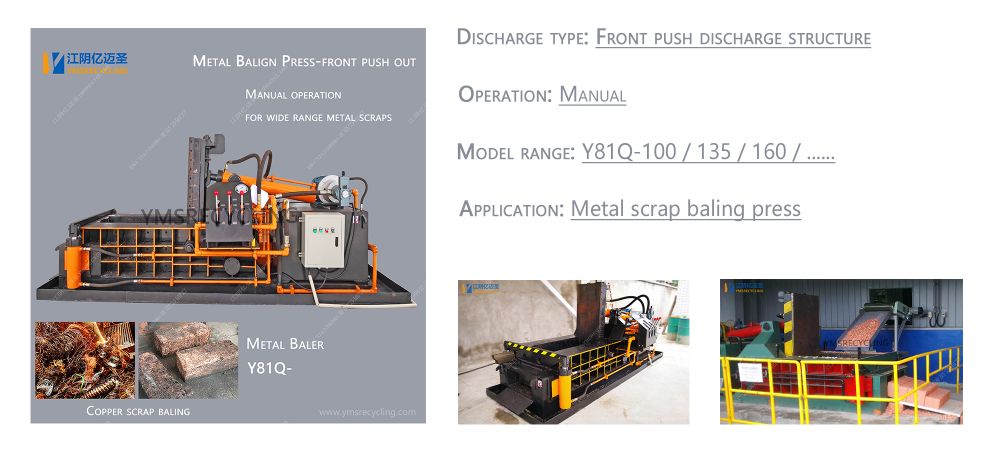 Y81F-Manual operation (Side turn discharge )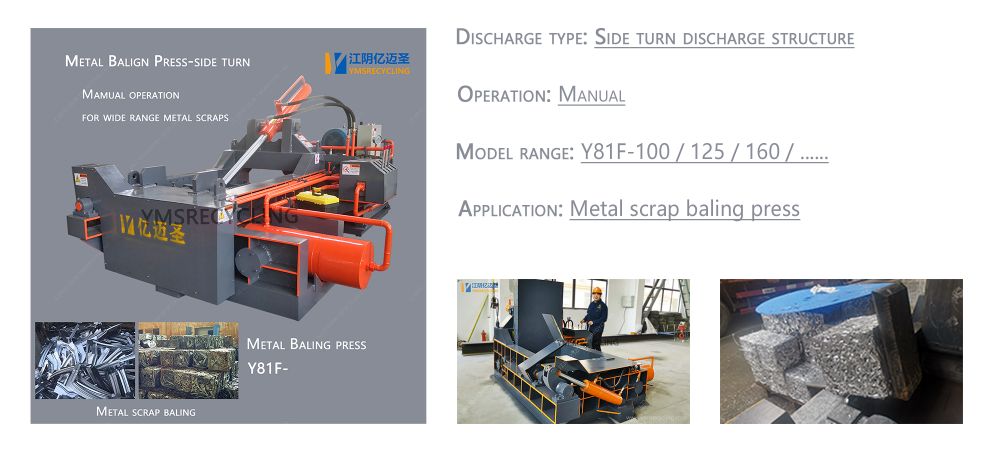 Y81F-Semi-automatic operation (Side turn discharge )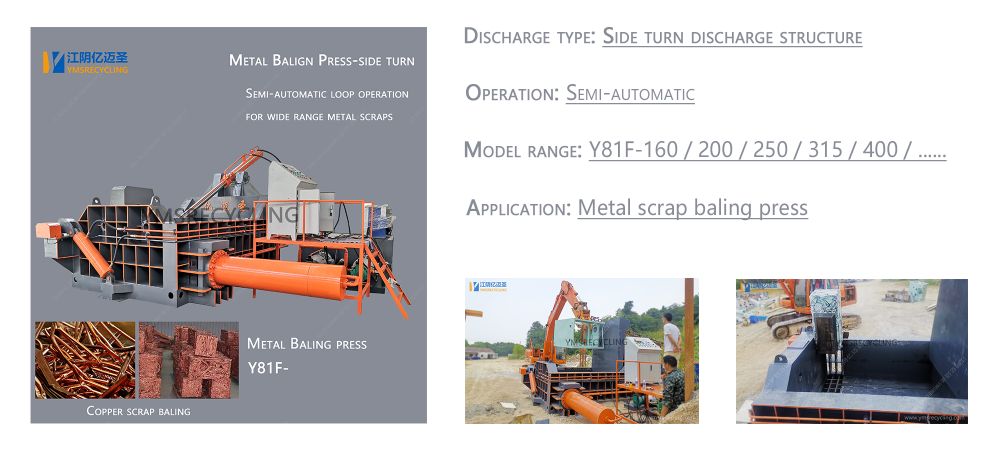 Y81T-Semi-automatic operation (Side push discharge )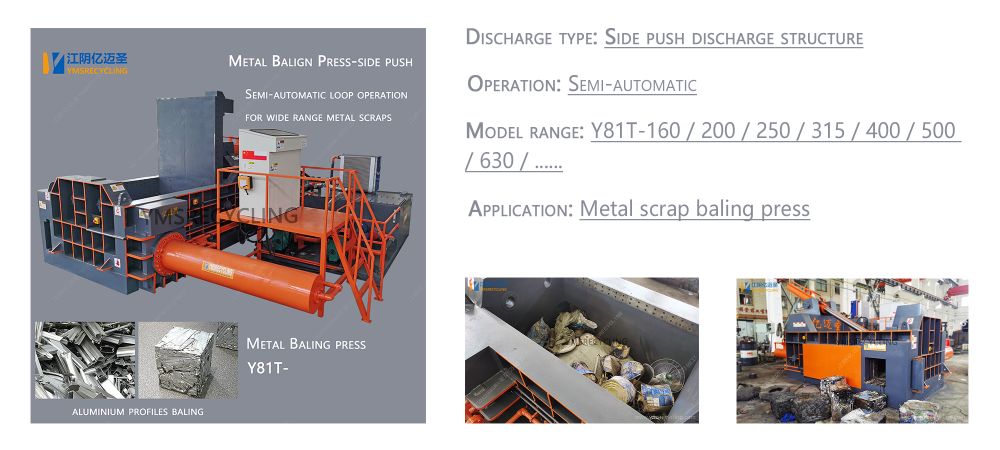 Y81S-Semi-automatic operation (Double main press discharge )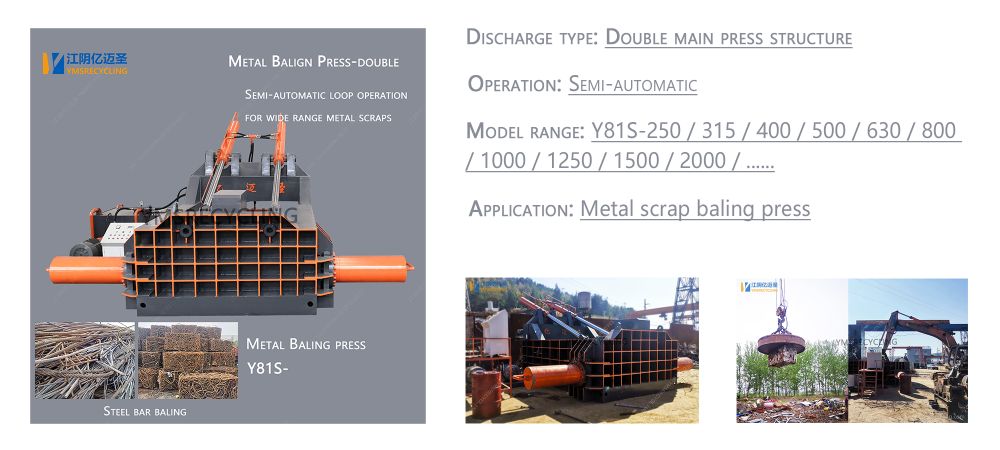 We provide a variety of models of the hydraulic metal baler, With new technologies to raise the quality and reduce the price, which supports 24 hours fully automatic working environment.

YMSRECYCLING offer economical and effective solutions to help you to process different metal scraps.
The Metal Baling Press can be customized and extended according to the actual needs of your on-site.
CONTACT YMSRECYCLING
Call us now on +86-15950122559

To start maximising your returns from your metal scrap recycling.
Please email sales@ymsrecycling.com or visit our website directly for further information about the products you are interested in.

Metal Baler,Aluminum Metal Recycling Baler,Automatic Aluminum Waste Metal Baler,Steel Metal Baling Press Machine
Jiangyin Yimaisheng Hydraulic Machinery Co., Ltd. , https://www.ymsrecycling.com