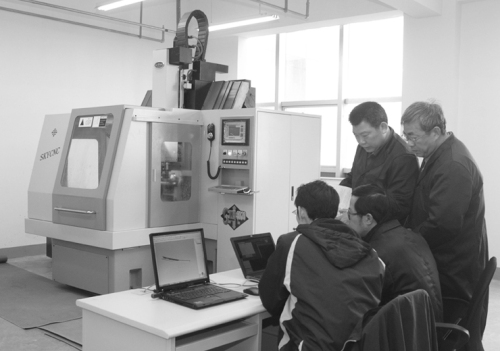 Various CNC punch presses are one of the important machine tools in the home appliance industry. At present, many users tend to use CNC composite punching and shearing machines (which can be composed of CNC punching and shearing composite flexible processing lines). However, the market for CNC punching and sheeting machines is still very large. It is mainly used for punching parts with a variety of sizes and sizes, The large electric control cabinet processing industry has a wide market and can also be used for the processing of other large-volume board punching parts.
The CNC punching and compounding machine can complete the punching, forming and shearing of the sheet material at a time, and is particularly suitable for the sheet metal processing after the bending process. Multi-process sharing of a set of numerical control system, hydraulic system and feed robot, compared with the single connection of CNC punching and angle shearing machine, not only can reduce equipment investment, save floor space, reduce the failure rate, but also can be used as a host composition punching and compounding Flexible processing line.
Household appliances use a wide variety of small electronic components. The demand for processing these small electronic parts has promoted the development of high-precision, high-efficiency high-speed presses. China Jinfeng, Jiangsu Yangduo, Gaojiang Seiki, Jiangsu Yangli, Xu Ding, and Xi'an Tongli all have high-speed presses. These presses are widely used in the electronics and microelectronics industries and have comprehensively improved the level of technical equipment in the industry, replacing a large number of imported machine tools.
The home appliance industry not only needs various processing machine tools and stamping dies, but also a large number of plastic parts need corresponding injection molds. Luo Baihui, for example, says that a refrigerator needs about 350 molds; an automatic washing machine needs about 200 molds; an air conditioner only needs about 20 plastic molds; a single color TV requires a total of 140 molds, and only color molds. There are about 2.8 billion yuan of market each year. With the intense competition in the home appliance market, shell design has become an important component, and new demands have been placed on the color, feel, accuracy, and wall thickness of the home appliance housing, and there is a great demand for new molds. The rapid development of the mold industry also promotes the demand for various machining centers and advanced machining tools.
Specifications
1)Suitable for conveyance of gas, petroleum, fluid, and electricity
2)Seamless,SAW or ERW alloy steel pipe
THK <3"; OD <120"
A: Alloy Pipe and tube Size Range:
1) Round pipe diameter: 4mm-3000mm, thickness: 0.3-60.0mm
2) Square tube: 8 x 8mm-1000 x 1000mm, thickness: 0.4-60.0mm
3) Rectangle tube: 8x 10mm-800 x 500mm, thickness: 0.4-60.0mm
B: Surface finish: black, blank, bright and galvanized, or painted
C: Length of each pipe: 500mm-16,000mm
D: Steel grade: 10#, 20#, A106B, A53B, Q195 Q235, Q345, ST37-2, ST52, S235, S355, SS400, A1010, SAE1045, X40, X60, A312, 304, 316 etc
E: Conforms to international standards, like: ASTM A53, ASTM A500, ASTM A513, ASTM A312, BS1387, DIN2391, DIN2394, DIN17175, JIS G3452, EN10210, EN10219, EN10025, EN10305 etc
ERW Steel Pipe, Square Steel Pipe, LSAW Steel Pipe, SSAW Steel Pipe
Cangzhou Weiheng Pipe Industry Co.,Ltd , https://www.czweiheng.com